World markets were ready for some good news last week and it came from the cryptosphere – India to be exact. News of India's Supreme Court striking down the RBI ban on crypto trading brought relief in troubled times to the blockchain sector at large. We'll cover the basics of what happened. Then, we'll bring it over to the industry experts who gave us their thoughts on India's news as well as what it means for the future of India and the cryptocurrency industry.
Background on India's crypto trading ban
In April of 2018, India's Central Bank imposed an extensive ban with its official notification titled, "Prohibition on dealing in Virtual Currencies (VCs)." It read:

"In view of the associated risks, it has been decided that, with immediate effect, entities regulated by the Reserve Bank shall not deal in VCs or provide services for facilitating any person or entity in dealing with or settling VCs. Such services include maintaining accounts, registering, trading, settling, clearing, giving loans against virtual tokens, accepting them as collateral, opening accounts of exchanges dealing with them and transfer / receipt of money in accounts relating to purchase/ sale of VCs."

The notification in effect disallowed banks from providing services to any business dealing in crypto. Shortly after the notice's publication, crypto proponents filed five petitions to the courts in response to the RBI's action. This included charges brought by a group of Indian exchanges. After reaching the highest court, the ban reversal took place with a Supreme Court announcement on March 5th, 2020.

This year long delay may have been detrimental to innovation in the crypto space, certainly in India if not worldwide. But it may have also been part of precautionary measures. India has its own digital currency, using its own technology. Protecting the integrity of their system may have been in mind when cancelling out crypto business; if only to grant the time for regulations and the crypto market to mature.
India's crypto industry reacts to the Supreme Court's ruling
The news hit online media on the morning following the announcement. By nightfall on the same day, several Indian exchanges had already instituted banking services for buying crypto on their platform. Perhaps this hints at the pace of innovation we may see in the future from the technologically advanced Indian workforce. It could also signal that companies in India have been preparing for this during the ban itself.

Update: During the writing of this article, The Economic Times reported that India's central bank will be appealing the decision of the Supreme Court to lift the crypto ban. In reference to the report, a legal opinion stated that the Courts can review the petition from the RBI. But for now, cryptocurrency exchanges may operate in the country. The reasoning behind the Supreme Court's decision to overturn the ban, they said, was because the "right to create something that doesn't violate any existing rule is an unsaid fundamental law."
What the experts have to say
We asked blockchain leaders and influencers in the crypto space the following question to help foster an understanding of this momentous event. What we wanted to know is if this could fuel a bull market for bitcoin. Especially when considering how recent economic distress along with the expanding Coronavirus situation has deflated the optimistic bitcoin halving narrative. So we asked:

Will the lifting of the India ban on crypto trading create the 2020 boom experts have been anticipating?
Anthony Pompliano
Co-founder & Partner at Morgan Creek Digital, Author of Off The Chain Newsletter
"I don't anticipate there to be a significant impact on price due to the Supreme Court ruling in India, but I do anticipate that this decision will open the door for the citizens of India to begin building and participating in their digital future. The more than one billion people in India deserve an opportunity at economic prosperity just as much as the rest of us."
Dave Waslen
CEO and Co-founder of HedgeTrade and Rublix Development
"The Supreme Court's lifting of the RBI crypto ban signals two major changes in how the crypto industry will play out in India. The first is that it reveals a major rift between regulators and the courts and we'll have to see how that plays out as regulations develop. Secondly, you now have investors and startups in India who can offer crypto exchange services, opening the door wide open to crypto businesses in the region.

Both these changes point to an vastly increased potential user base for crypto exchanges world wide. It may even push Bitcoin to where we all hoped it was going at the halving, before recent events jolted the markets. Overall, this news signals that some of the most adverse regulators are seeing that cryptocurrencies are here to stay and are willing to change their mindset; which is very exciting for believers in the sector."
Diane Furman
CEO of Lumi Wallet
As we remember, in the summer of 2019 government officials proposed to criminalize cryptocurrency operations in India. The infamous bill was swept under the rug quite rapidly after media backlash. However, it hit local crypto-related businesses and exchanges hard.

Lifting the older ban for businesses should have exactly the opposite effect – India's IT resources, including the crypto sphere, are limitless and will occupy a significant place in the club of countries with clear cryptographic regulations. No doubt it will shake up the crypto world and push the Indian government towards more inclusive crypto regulations. This looks like the start of a positive chain reaction for one of the biggest economies in the world and the impact on the crypto markets won't be delayed.
Sam Russell
Co-Founder of WORBLI, CEO of VXHub
"I don't think so, no. The crypto penetration in the Indian market is relatively new.
Traditionally, the part of the population involved in traditional financial markets is smaller in India compared to bigger crypto markets — such as China, USA, UK, and Australia.

Even though the Indian population provides on the surface a huge opportunity, there is a lack of penetration for crypto assets. This is reflected by the number of exchanges and crypto projects in India."
Manish Katria
COO and Co-founder of Quadency
"Generally, any crypto-friendly regulatory reform is received well overall by this very global market. However, creating the type of explosive growth early adopters have been waiting for will require far more than one country being on the verge of common sense crypto regulation. While India's sheer market size and status as a global tech hub may lead to excitement over near term impact, historically these shifts in adoption take far longer.
So will this move be the catalyst for a global market boom the way an RBI-issued digital rupee might be? Probably not. However, looking at strong interest by very capable global service providers to re-enter a huge market they're no longer banned from, we can definitely expect a 2020 boom for the industry's growth, particularly in India."
Alex Adelman
CEO and Co-founder of Lolli
"The lift of the crypto trading ban in India just gave 1.3 billion people the opportunity to trade bitcoin. It will absolutely have a major effect on trading volume in 2020. When more countries and governments begin embracing digital assets, we will begin to see bitcoin operating as it was originally intended — to be a truly borderless and global method of payment."
Crypto Wendy O.
Founder and Blockchain Media Consultant – CryptoWendyO Show
China announced it's interest in blockchain tech (not cryptocurrency) to a population of ~1.386B on 10/25/2019 and we saw a ~35% increase in price. India lifts its ban on crypto and ~1.3B people can use crypto if they please. I'll leave this here.
It's was an exciting week when it was announced that India legalized crypto trading. However this news will have a different impact on the market than when Chinese President announced that China was bullish on blockchain technology. Both countries have a similar population numbers-wise, but India is still not out of the clear as there have been rumors that the RBI will be fighting the Supreme Court's decision.
Another factor we must consider is the current pandemic surrounding the Coronavirus and how it has impacted the US stock market and global economies. My answer to your question is that I do not believe that India lifting their ban on crypto will cause a boom. I believe the market will get worse before it gets better as Bitcoin has not proven itself to be a safe haven yet. Below is a chart with a potential scenario that could occur. I do believe we will not see the markets rally as they did with China..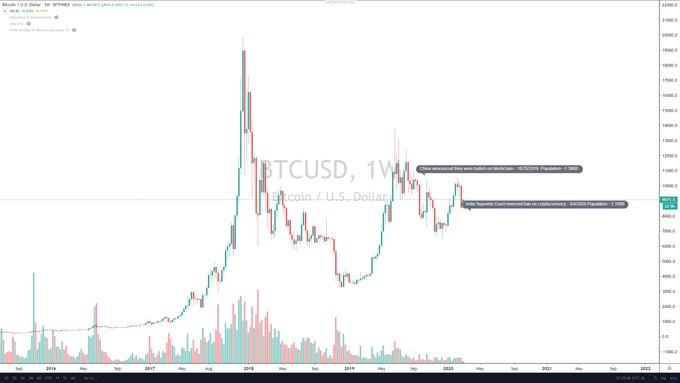 A big Thank You
Thanks to all the experts who contributed their time to share their insight on the future of India's cryptocurrency industry and its global impact. We also hope the regulatory atmosphere continues to favor innovation.